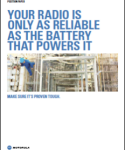 Why Should I Buy Motorola Two-way Radio Batteries?
On the manufacturing line or the fire line, at a crash site or a construction site, you rely on a two-way radio that operates continuously – that won't stop when it's dropped, won't break when it's shaken, or won't fail when it's shocked by static electricity. Whether you're in public safety or private enterprise, radio batteries that can't handle the rigors of the real world aren't a bargain. Because when a radio battery dies and your radio stops, you can't do your job.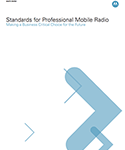 Standards for Professional Mobile Radio
Today, both regulatory bodies and the needs of users are encouraging the move toward digital mobile radio technology to improve spectral efficiency and take advantage of advanced voice and data functionality. The professional market, the largest group of two-way radio users, is now deciding which digital technology will best meet their needs, now and in the future. TDMA two-slot digital mobile radio, the standards-based solution created for these users, offers the best option.
Learn More About Making a Business Critical Choice for the Future.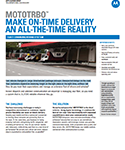 MOTOTRBO – Make On-Time Delivery An All-The-Time Reality
Last minute changes in cargo. Unscheduled package pick-ups. Unexpected delays on the road. Your customers depend on receiving freight at the right place at the right time, without fail. How do you meet their expectations and manage an extensive fleet of drivers and vehicles?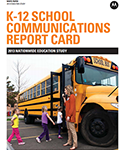 K-12 School Communications Report Card
When it comes to their communication systems, the majority of school districts feel they are prepared for an emergency: 30 percent say "very prepared" and 64 percent feel "somewhat prepared." While 22 percent indicate their current system is fine, nearly 40 percent believe that their district needs an updated communication system to better meet their school's needs – particularly for emergencies.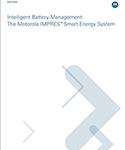 Intelligent Battery Management: The Motorola IMPRES™ Smart Energy System
First responders and other mission critical workers demand ready and reliable two-way radio batteries. To ensure mission success, two-way radio batteries require recharging and reconditioning for optimal performance. while in the field, two-way radio users need to know exactly how much usage they can expect from their equipment, eliminating the worry about being caught on an 8-hour shift with a 4-hour battery.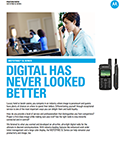 SL Series Radios – Digital Has Never Looked Better
Luxury hotel or lavish casino, you compete in an industry where image is paramount and guests have plenty of choices on where to spend their dollars. Differentiating yourself through exceptional service is one of the most important ways you can delight them and build loyalty.

Two-Way Radio Selection Guide
Motorola is a company of firsts with a rich heritage of innovation. We continue to invent what's next – connecting people, delivering mobility and making technology personal.
How Can We Help?
Not sure what you are looking for? The two way radio experts at Radio Express, Inc. can help. Request more information today.
Call Us Toll Free:
800-545-7748