Our Integrated Communication Solutions Enhance School Safety And Improve Efficiency
We know that your district is constantly being pressed to boost student safety and increase staff efficiency on an ever-shrinking budget. Our instant, reliable communication solutions excel at helping keep students and staff safer, tracking bus fleets accurately, and improving overall efficiency – with flexible options you can afford.
Solutions
Improve Operational Efficiency
Boost productivity and cut costs with real-time mobile connectivity.
When you need to communicate quickly and easily with all school personnel, the best way is over two-way radio. With the touch of a button, you securely link multiple teams across the district. Deliver voice, data and video information to staff instantly, wherever they go, from the school principal to the campus electrician.
Motorola's next-generation solutions ensure staff can respond rapidly and work efficiently wherever they go. With durable devices and school-specific systems, you'll have technology that connects directly to your needs.
Bus Fleet Tracking And Management
Coordinate your fleet with exceptional efficiency.
Need to contact a student on the bus, redirect a vehicle or make sure your fleet is adhering to its route? The integrated GPS on Motorola's radios helps you monitor their location and manage logistics. Now schools can track each vehicle to improve security, increase student safety and effectively respond to emergencies, weather events, traffic and more.
Features like "emergency call buttons" alert dispatch when drivers need assistance. Remote monitoring lets you listen in when a driver is unable to respond. Data applications inspect buses, check fuel usage, track upkeep and inform you if bus doors are left open or drivers are on duty. We designed our fleet management solutions to keep your drivers connected with schools efficiently and safely, wherever they go.
Discover how improved safety, increased personnel accountability and realized cost-savings with MOTOTRBO digital radios integrated with GPS and the WAVE smartphone app.
Communicate With Added Intelligence
Drive safety home with operations-critical applications.
GPS location tracking on two-way radios helps schools monitor bus locations and manage logistics. Bus-fleet managers can determine the speed and location of vehicles, engine alerts, hard braking, fuel consumption and ignition status. They can re-route buses around local accidents and traffic jams, pinpoint where a bus is in real time, and see whether a driver is deviating from the route. Other apps enable schools to inspect buses, track upkeep and inform them if bus doors are left open and if drivers are on duty.
Operations-critical apps beyond the fleet also enhance safety, increase efficiency and reduce costs. Security personnel can be automatically notified if a school door or gate is breached and remotely open or close it. Maintenance can turn lights on or off, control sprinklers and handle a multitude of other tasks with their two-way radios.
Voice Dispatch
GPS / Location
Command and Control

Two-Way Radios
Motorola Analog Radios
Motorola Solutions' analog two-way radios deliver the essential capabilities your team needs and the value you demand. They also provide things you might not expect, such as dedicated, licensed communication and a wider coverage area. So whether your people are on the job site or out in the field they can communicate more effectively and work more efficiently. All without breaking your budget.
Motorola Analog Portable Radios

Motorola Digital Radios
Digital Makes Two-Way Radio Communications Better
Better Call Quality
Audio – digital applies error correction to eliminate noise and static and preserves voice quality over a greater range so users can hear what is being said crisp and clear. Use of the AMBE+2™ vocoder further improves speech transmission quality in noisy environment while achieving spectrum efficiency.
Coverage – digital enables users to make more calls to more places. A digital signal stays strong and clear until it reaches its maximum range. There is no deterioration in the signal, providing greater usable range in areas where two-way communication was not possible in the past.
Better Call Management
Control — A common desire amongst analog radio users is to control who receives a message and avoid broadcasting messages to a wide group of listeners. Digital makes this possible with unique IDs assigned to each radio. A user can selectively call specific individuals or groups by selecting the radio ID(s) to direct a message only to those who need the information.
Digital Radio Benefits
Range – Intelligible speech over a longer distance.
Quality – Crisp and clear, even in fringe coverage areas.
Capacity – Twice the capacity of analog radio in the same channel.
Talk-Time – Up to 40% longer battery life than analog radio.
Features – Increased opportunity for innovation.
Motorola Digital Portable Radios

MOTOTRBO Digital Radio System
MOTOTRBO two-way radios unify your staff and fleet with instant, always-available communications, anywhere they go. When emergencies arise – from an injured student to an intruder on campus – Motorola's two-way radios connect staff directly and instantly to public safety agencies.
MOTOTRBO integrates voice and data seamlessly, with enhanced features that are easy to use – including integrated Bluetooth, GPS location tracking, text messaging and Intelligent Audio that automatically adjusts volume to the environment. Whether a custodian is in a boiler room or a coach is in a crowded gym, you can be sure they will hear and be heard clearly.
DMR (MOTOTRBO) Radios
The MOTOTRBO two-way radio portfolio offers you a wide choice of devices, from simple voice-only models to feature-rich voice and data radios. All work together seamlessly to deliver advanced features to enhance your safety, productivity and efficiency.
Learn more about DMR (MOTOTRBO) Radios
MOTOTRBO Systems
No matter how large or small your enterprise, MOTOTRBO offers a wide range of systems specifically designed for your business – for the days ahead and the years beyond. You get the best of two-way radio with digital technology and enjoy integrated voice and data communication, increased capacity, enhanced features and exceptional voice quality, across the city and around the globe.
Learn more about MOTOTRBO Systems
MOTOTRBO Applications
Benefit from solutions designed to fit your needs and strategies to be more productive, more efficient and more effective. Find the application to meet your specific needs and take your communications to the next level.
MOTOTRBO Accessories
MOTOTRBO radios are already best in class, but to help you work at your best, you need enhancements targeted to your specific workplace. Motorola developed a line of accessories with unique features designed to optimize the performance of your radio in your work environment, unleashing the full power of the industry's most advanced digital radio platform. From discreet Bluetooth earpieces to efficient battery solutions, Motorola's complete portfolio of accessories optimizes the performance of your MOTOTRBO radio. They are designed to help you perform your best, wherever you work, and unleash the power of the industry's most advanced digital radio platform.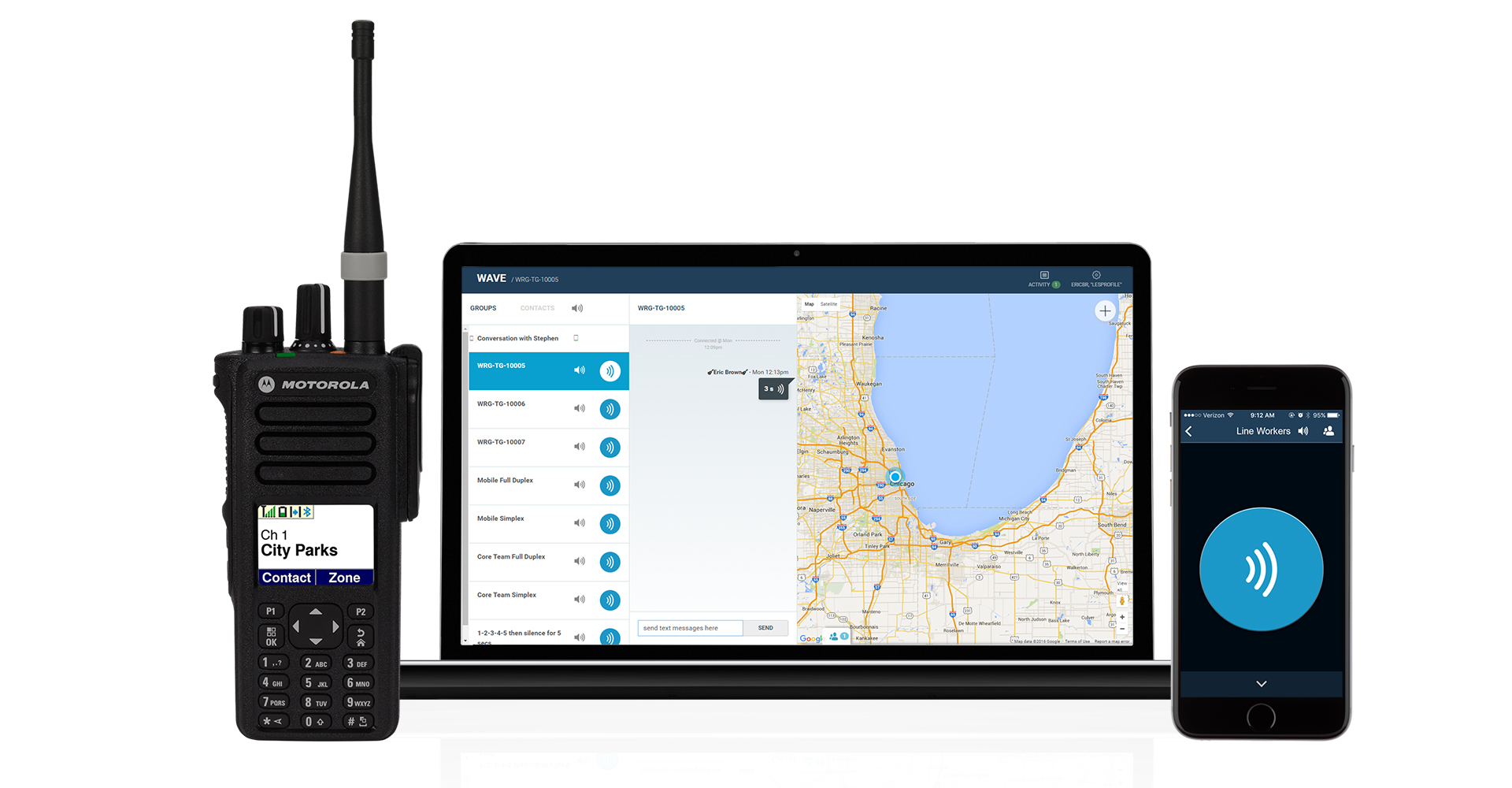 Team Communications
Connect Without Boundaries
Move beyond network, device, and geographic boundaries.
How do you make communicating as easy as if your team was standing next to each other?
Whether you're in the office, on site, or at a conference hundreds of miles away, with Motorola's Team Communications solution your team is always just a "push" away.
Your workers can use the devices they already own – whether it's smartphones, radios, tablets, computers or telephones – or you can equip them with ones that are right for their responsibilities and workplace. They'll have access to real-time information and the colleagues they need to get the job done right. And you leverage the devices and infrastructure you already have in place.
One platform. One provider. All your communications equipment. Connect all teams instantly, from any network or device, and with added intelligence with Team Communications from Motorola Solutions.
Radios
Smartphones
Computers
Telephones
Internet of Things
Using Unified Workgroup Communications, network, device, and geographic boundaries are overcome – your team members can connect from their preferred device to other team members, anywhere, anytime with business-critical information.
Learn About Motorola Team Communications
*McKinsey Global Institute Report

WAVE Work Group Communications
Connect To Staff, On Any Device, Anywhere Wave™ Work Group Communications
Leverage the resources you already have to communicate with employees on their own devices. WAVE extends your radio's reach to those who may not carry radios. Now the principal at a convention or the administrator away from campus can talk on their smartphones with radio users at school.
WAVE connects to virtually any device – smart phones, laptops, tablets, even intercoms and landlines – on any public or private mobile data network, including Wi-Fi. You get seamless and secure connectivity, affordable push-to-talk, and the freedom to keep service plans and devices.
WAVE OnCloud
WAVE OnCloud is a Push-to-Talk (PTT) service that connects phones, computers and radios together — all while making the most of your existing resources, systems and investments. Because it lives in the cloud, WAVE OnCloud is inherently cost-effective.
WAVE OnCloud extends your radio system's reach to those who may not carry radios. Now the principal at a convention or the administrator away from campus can talk on their smartphones with radio users at school.
The service is easy to use and there are no servers to buy, install or maintain. Simply pay a monthly subscription fee, download the app and start communicating instantly with PTT, text and mapping. As a subscription-based service, you can start up or wind down easily and without capital expenses. Provisioning is fast and easy, making it straightforward to add or remove users as your business needs change. It's that simple.

SchoolSAFE Communications
Bridge communications between the public safety network and schools.
SchoolSAFE Communications is a web-enabled two-way radio-based product that allows for communications interoperability between school radio systems and public safety radio systems.
School-based radio systems are generally less capable and lack the channel capacities, power, and digital signaling to interoperate directly with public safety professionals who may have more sophisticated and much more advanced radio systems. Once the SchoolSAFE Communications product is in place, school security and public safety professionals from police, fire and EMS can easily initiate or receive communications with school personnel utilizing their existing two-way radios.
Components
SchoolSAFE Communications
Combines new two-way radio technology, training and professional personnel to bridge communications between schools and first responders.
Improve Your School's Safety And Security With Unified Communications
There's never been a better time to bring Unified Communications to your school's campuses. Have one of our representatives contact you for a complimentary analysis of your communications needs.
Useful Resources and Downloads
Application Briefs/Fact Sheets
Brochures and Spec Sheets
MOTOTRBO
MOTOTRBO Accessories
WAVE Work Group Communications
Case Studies
eBook
Info Graphics
Presentations
Videos
White Papers
MOTOTRBO
Team Communications
WAVE Work Group Communications
How Can We Help?
Not sure what you are looking for? The two way radio experts at Radio Express, Inc. can help. Request more information today.
Call Us Toll Free:
800-545-7748