West Tennessee Healthcare MOTOTRBO Case Study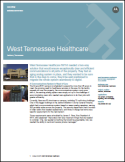 Read the complete MOTOTRBO Case Study
West Tennessee Healthcare (WTH) needed a two-way solution that would ensure exceptionally clear and efficient communications to all parts of the property. They had an aging analog system in place, and they wanted to be sure that in the days to come, they'd be well positioned to migrate the whole system seamlessly to digital.
A Communications System in Need of Care
The 50-acre WTH campus is scheduled to expand by more than 20 acres to meet the growing need for healthcare services in the area. As the facility spreads out over the property, the communications system must grow with it; the existing analog system was simply not up to the challenge of accommodating users who needed new applications to do their jobs with greater efficiency.
Currently, there are 40 structures on campus, including 13 multi-story buildings.One of the bigger buildings is the Jackson-Madison County General Hospital, which had a communications system based on seven analog repeaters, serving 350 portable radios across the property. The security department had a number of older radios that needed replacement, and those in charge had some very specific requirements for the new system.
Those requirements were articulated by James E. Ross, Vice President of WTH, who explained "there were two very important things that we needed to consider. One, we needed something that would be expandable; two, we needed the ability to send and receive private messages."
Contact us for more information on case study or information on MOTOTRBO two way radios.
How Can We Help?
Not sure what you are looking for? The two way radio experts at Radio Express, Inc. can help. Request more information today.
Call Us Toll Free:
800-545-7748