Standards for Professional Mobile Radio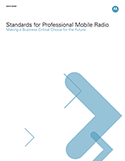 Today, both regulatory bodies and the needs of users are encouraging the move toward digital mobile radio technology to improve spectral efficiency and take advantage of advanced voice and data functionality. The professional market, the largest group of two-way radio users, is now deciding which digital technology will best meet their needs, now and in the future. TDMA two-slot digital mobile radio, the standards-based solution created for these users, offers the best option. The Digital Mobile Radio (DMR) standard on which it is based was designed to deliver a cost-effective, highly functional communication system for professional mobile radio users, as well as the smoothest path toward future interoperability and multi-vendor flexibility
The Solution: Digital Mobile Technology
Delivering Performance and Productivity
With the emergence of digital two-way radio technologies, professional organizations are being offered an increasing variety of systems, both proprietary and standards-based, that can better align with their business goals. Digital technology achieves new levels of performance and productivity, with a richer feature set to meet the needs of the professional user.
Digital mobile radio also delivers cost-effectiveness and greater spectrum efficiency, by using less of the available spectrum capacity per call. That provides higher overall capacity with clearer voice services throughout a geographic range. At the same time, digital protocols enable access to integrated data to improve organizational responsiveness and productivity.
Depending on the technologies used, digital systems can be designed to:
Make more efficient use of available, licensed RF spectrum
Combine voice and data access in the same device, delivering more information while empowering field workers with systems that are more portable, flexible, and much easier to use than two different and incompatible systems
Combine analog and digital voice in the same device, easing the migration to digital while preserving investments in analog technology
Provide strong, practical, easy-to-use privacy solutions without the significant loss in voice quality that analog scrambling can cause
Enable flexible and reliable call control and signaling capabilities
Provide increased capacity without additional base stations
Flexibly adapt to changing business needs and new applications through a modular architecture
Regulatory Support
Around the world, regulatory bodies are already encouraging the digital transition in order to take advantage of its greater bandwidth efficiency. Analog radios use a bandwidth of 25kHz or 12.5 kHz to transmit a call; current digital protocols designed for the professional market tier are two to four times more efficient.
In the United States, the FCC has already mandated that as of January 1, 2011 new licenses in the VHF and UHF bands must operate with an equivalent efficiency of at least one voice path per 12.5 kHz and that existing licensees must do so by January 1, 2013. Further, as of January 1, 2011, 12.5 kHz efficiency equipment in these bands must also include a 6.25 kHz equivalent efficiency mode. Equipment does not have to operate with a 6.25 kHz bandwidth channel, but it does have to include a mode that is the equivalent of one voice path per 6.25 kHz. For example, 2 voice time slots in a 12.5 kHz channels meets the requirement. Canada, likewise, has since 1997 required that all radio equipment be capable of at least 12.5kHz efficiency after 2010, 12.5kHz systems will be considered "non standard" to encourage further 6.25kHz equivalency.
The clear advantages of digital radio — along with increasing regulatory pressures to use RF spectrum more efficiently — will drive widespread adoption of professional two-way digital radio solutions in the coming years. Today's analog radio users will almost certainly be migrating to digital tomorrow. The only remaining question is, how will professional market organizations choose systems that provide them with the greatest benefit over the long term?
A Standards-based Solution — Motorola's MOTOTRBO™ for the Professional Mobile Radio Market
Motorola has long been a leading supporter of interoperable, multi-vendor standards-based solutions. So in creating our digital radio solution for the professional mobile radio market, we were heavily involved in the development of the ETSI DMR standard. We are proud to be the first to bring a DMR Tier 2 standards-based solution to market, the Motorola MOTOTRBO Professional Digital Two-Way Radio System.
With MOTOTRBO, professional users benefit from:
Expanded digital voice, data, and control capabilities delivered over a given slice of RF spectrum. TDMA digital two-way radio increases capacity and flexibility to support more users in more ways.
Increased capacity with lower licensing and equipment costs. TDMA technology enables two virtual channels within a single 12.5 kHz licensed repeater channel. This provides twice the calling capacity for the price of one license. And because there's only one "real" channel, a second call doesn't require a second repeater.
Clearer voice communications over a greater range. When signal strength drops off with distance, digital error-correction technology can accurately deliver both voice and data content with virtually no loss over a given coverage area. Audio quality is more consistent across a given coverage area.
Improved battery life. In a two slot system, each individual radio only uses half the battery power of an analog radio transmitting at the same wattage. Since transmitting is the most energy-intensive operation, digital TDMA two-way radios can enable operation up to 40 percent longer than typical analog radios.
Easy migration. MOTOTRBO's ability to operate in both analog and digital modes enables a smooth, planned migration at a user's own pace.
Advanced applications. With built-in GPS, MOTOTRBO provides the ability to track people and assets, such as vehicles. MOTOTRBO also offers text messaging capability, enabling messaging between radios and dispatch systems, radios and email addressable devices and to remote PC clients attached to radios.
As they prepare to migrate to the greater efficiencies and capabilities of digital mobile radio, professional users need to make a careful choice. Motorola's MOTOTRBO makes the choice easier by adhering to globally recognized standards. A standards-based solution assures a smooth, well defined migration path, as well as the interoperability and compatibility of multi-vendor equipment that provide for fair market, competitive alternatives
Download this Standards for Professional Mobile Radio whitepaper.
How Can We Help?
Not sure what you are looking for? The two way radio experts at Radio Express, Inc. can help. Request more information today.
Call Us Toll Free:
800-545-7748