Schools Increase Campus Security, Improve Staff Efficiency with Motorola Two-Way Radios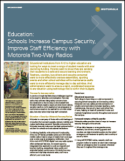 Read the rest of this School Campus Security Case Study
Educational institutions from K-12 to higher education are looking for ways to meet a range of student needs with ever dwindling funding. Parents want to know they are sending their students to a safe and secure learning environment. Teachers, coaches, bus drivers and security personnel want to more effectively oversee assemblies, sporting events and other school activities while maintenance staffs want to more efficiently manage day to day activities. And administrators want to ensure a rapid, coordinated response to any situation using technology that is within their budgets.
The Case For Two-way Radios
A common thread that links these challenges together is the need for effective communication. Two-way radios help address rising safety concerns from the classroom to the bus stop to the football field. Whether drivers need to report a broken down vehicle, security needs to notify teachers of an emergency or maintenance needs to be reached for a broken water pipe, two-way radios help keep staff connected.
Education + Security = Motorola Two-way Radios
Motorola is a company of firsts with a rich heritage of innovation that connects people, delivers mobility and makes technology personal. Versatile and powerful, Motorola two-way radios are the ideal communication solution for schools and educational institutions. Combining flexibility with enhanced functionality, Motorola CP Series portable radios and CM Series mobile radios meet a range of needs from coverage over a wide area to emergency notification. And Motorola's MOTOTRBO digital two-way radio system offers enhanced features, increased capacity, integrated data applications such as dispatch and location tracking, exceptional voice quality and extended battery performance. Motorola two-way radios can help keep students safer, staff more efficient, and costs lower.
Contact us for two way radio solutions for your school campus.
How Can We Help?
Not sure what you are looking for? The two way radio experts at Radio Express, Inc. can help. Request more information today.
Call Us Toll Free:
800-545-7748