Why Should I Buy Motorola Two-way Radio Batteries?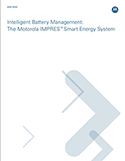 On the manufacturing line or the fire line, at a crash site or a construction site, you rely on a two-way radio that operates continuously – that won't stop when it's dropped, won't break when it's shaken, or won't fail when it's shocked by static electricity. Whether you're in public safety or private enterprise, radio batteries that can't handle the rigors of the real world aren't a bargain. Because when a radio battery dies and your radio stops, you can't do your job.
We understand that uninterrupted communications are business-essential and mission-critical. There is no margin for error and no room for malfunction. And we know that other leading radio battery brands don't deliver what we do. Hoghly reliable, high-performing batteries that are proven tough. Time after time. Test after test.
Our radios and batteries perform optimally together. By design.
Unlike aftermarket battery brands, Motorola batteries are designed and developed as an integral component of our two-way radios. No other aftermarket battery manufacturer can offer that certainty and compatibility with Motorola radios. We engineer, manufacture and test to stringent specifications to make sure our batteries withstand the most unforgiving environments. So you can be confident our radio batteries perform reliably, when you need them most
We also offer "intrinsically safe" (IS) batteries that are approved for use with the Motorola instrinsically safe approved radio unit. We can only ensure the continued certification and compliance of our radios with the use of Motorola approved intrinsically safe batteries.
Advanced IMPRES™ Batteries and Chargers
Along with our standard Motorola radio batteries, we also offer our exclusive IMPRES "smart energy" system. This exclusive battery technology provides adaptive reconditioning and end-of-life display to maximize your talk-time and battery cycle life – all automatically. You can safely leave batteries on the IMPRES charger without damaging them and keep your batteries fully charged. So you can be confident they are always ready and your radio is ready to work, right when you need it.
Motorola IMPRES batteries and chargers also enable the implementation of our industry-exclusive IMPRES Battery Fleet Management System. A software application that enables unprecedented data collection and analysis allowing you to better manage the health and status of your IMPRES batteries.
Drops. Shakes. Shocks. We took on the worst and performed the best.
We proved how tough we were five years ago and are proving it again.
Our batteries were put through the paces and lab-tested against competitive batteries. Can other manufacturers match the standards we achieved?
Thirty samples of each battery type were randomly selected and scrutinized: Motorola, Honeywell, Power Products and Multiplier. All are compatible with our most popular two-way radios
Three critical tests were conducted: Drop, Vibration and Electrostatic Discharge. These replicate real-world situations that occur most often during typical battery use. The result? Once again, Motorola batteries surpassed the others in durability, performance and surviving electrostatic discharge.
How Can We Help?
Not sure what you are looking for? The two way radio experts at Radio Express, Inc. can help. Request more information today.
Call Us Toll Free:
800-545-7748