SL Series Radios – Digital Has Never Looked Better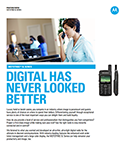 Luxury hotel or lavish casino, you compete in an industry where image is paramount and guests have plenty of choices on where to spend their dollars. Differentiating yourself through exceptional service is one of the most important ways you can delight them and build loyalty.
How do you provide a level of service and professionalism that distinguishes you from competitors? Project a first-class image while making sure your staff has the right tools to stay instantly connected and in control?
We listened to what you wanted and developed an ultra-thin, ultra-light digital radio for the ultimate in discreet communications. With industry-leading features like enhanced work order ticket management and a large color display, the MOTOTRBO SL Series can help remaster your productivity and image, too.
We Asked a Respected Panel of Experts: Our Customers
When it came to developing a digital radio specifically for the hospitality industry, we turned to the experts – our customers – to ask what the perfect device should be.
Whether size or shape or software, they believed it should combine style with high performance, elegant professionalism with everyday practicality. Quite simply, it had to help them get the work done without getting in the way.
From world-renowned casinos to five-star resorts, our customers were the driving force behind the development of the SL Series digital radios. They communicated what was critical and outlined what was desirable.
How Can We Help?
Not sure what you are looking for? The two way radio experts at Radio Express, Inc. can help. Request more information today.
Call Us Toll Free:
800-545-7748