Improve Service To Your Customer Base – Rural Electric Cooperatives Use MOTOTRBO Digital Two-way Radios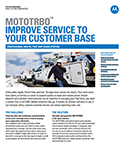 Read this Motorola MOTOTRBO Case Study
Improve Service To Your Customer Base – Rural Electric Cooperatives Use MOTOTRBO Digital Two-way Radios
Utility poles topple. Power lines plummet. Outages occur across the county. Your work crews have plenty of territory to cover to respond quickly to repair and restore power. Instant dispatch and unbroken communication are so essential to managing your field force, you need a system that is 24/7/365 reliable wherever they go. A system so efficient and easy to use, it can increase safety, improve customer service and reduce operating costs, too.
The Situation:
Ensuring clear and continuous communication across your coverage area is vital to running your cooperative efficiently. Your employees work in loud and harsh outdoor environments where they can't afford to miss a call or misunderstand a message. And they often endure long shifts where they depend on their radio to retain power and perform reliably. Analog radio systems are prone to drop-offs in coverage as they lose signal strength, as well as interruptions and interference from static and noise.
The Solution
Versatile and powerful, MOTOTRBO is the ideal solution. The MOTOTRBO professional digital communication system combines the best of two-way radio functionality with the latest digital technology. It integrates voice and data seamlessly, offers enhanced features that are easy to use and delivers impressive capacity and coverage to meet your growing communication needs. With exceptional voice quality and long battery life, MOTOTRBO keeps your mobile workers connected when communication is a must.
The Result
Whether your mobile workers are on a hilly road or high up a pole, with MOTOTRBO™ digital two-way radios and accessories you can communicate clearly and conveniently. The advanced noise-cancellation technology removes background noise and boosts voice clarity. And when your team needs more than just voice, they can use MOTOTRBO for data transfer, text messaging and GPS location services.
>MOTOTRBO BENEFITS Account Managers
Reach your workforce anywhere they go with voice and data
Improve efficiency and safety on the job
Keep connected easily and seamlessly
Accelerate your response and improve customer service
Maximize your system investment and infrastructure
Enhance value and reduce operating costs
Contact us to learn how Digital MOTOTRBO two-way radios can help yout business.
How Can We Help?
Not sure what you are looking for? The two way radio experts at Radio Express, Inc. can help. Request more information today.
Call Us Toll Free:
800-545-7748