Motorola Two Way Radio Battery Reliability Case Study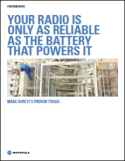 Read this Motorola Two Way Radio Battery Proven Tough, Case Study
Your Two Way Radio Is Only As Reliable As The Battery That Powers It
Make Sure It's Proven Tough
If Your Battery Isn't Working, You're Not Working.
On the manufacturing line or the fire line, at a crash site or a construction site, you rely on a two-way radio that operates continuously – that won't stop when it's dropped, won't break when it's shaken, or won't fail when it's shocked by static electricity. Whether you're in public safety or private enterprise, radio batteries that can't handle the rigors of the real world aren't a bargain. Because when a radio battery dies and your radio stops, you can't do your job. We understand that uninterrupted communications are business-essential and mission-critical. There is no margin for error and no room for malfunction. and we know that other leading radio battery brands don't deliver what we do. highly reliable, high performing batteries that are proven tough. Time after time. Test after test
Our Radios and Batteries Perform Optimally together. By Design.
Unlike aftermarket battery brands, Motorola batteries are designed and developed as an integral component of our two-way radios. no other aftermarket battery manufacturer can offer that certainty and compatibility with Motorola radios. We engineer, manufacture and test to stringent specifications to make sure our batteries withstand the most unforgiving environments. so you can be confident our radio batteries perform reliably, when you need them most.
We also offer "intrinsically safe" (is) batteries that are approved for use with the Motorola instrinsically safe approved radio unit. Maintaining the intrinsically safe rating of a Motorola radio requires the use of an approved Motorola intrinsically safe battery
How Can We Help?
Not sure what you are looking for? The two way radio experts at Radio Express, Inc. can help. Request more information today.
Call Us Toll Free:
800-545-7748