Intelligent Battery Management: The Motorola IMPRES™ Smart Energy System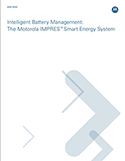 First responders and other mission critical workers demand ready and reliable two-way radio batteries. To ensure mission success, two-way radio batteries require recharging and reconditioning for optimal performance. while in the field, two-way radio users need to know exactly how much usage they can expect from their equipment, eliminating the worry about being caught on an 8-hour shift with a 4-hour battery.
Motorola introduces the concept of intelligent, automated battery maintenance with the IMPRES™ Smart Energy System of batteries and chargers. Exclusive technology only from Motorola, IMPRES allows departments to maintain their two-way radio batteries at the most optimal performance. Designed and tested to operate in extreme conditions while providing the assurance of high battery charge capacity throughout a full shift, the IMPRES Smart Energy System boosts workforce productivity and departmental efficiency.
The IMPRES Smart Energy System Optimizes Battery Charging and Enhances Radio Reliability
Motorola's exclusive IMPRES technology provides a communication interface between radios, batteries and chargers, which automates battery maintenance and enhances the capabilities of two-way radio systems. Batteries that are charged and maintained at their optimal levels benefit from longer life, ensuring the reliability of the radio and the safety of the mission critical worker and community.
How Can We Help?
Not sure what you are looking for? The two way radio experts at Radio Express, Inc. can help. Request more information today.
Call Us Toll Free:
800-545-7748