IMPRES Batteries and Chargers Case Study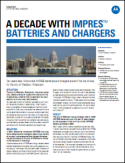 Read this Motorola IMPRES Battery Case Study
A Decade with IMPRES™ Batteries and Chargers
Ten years later, Motorola's IMPRES batteries and chargers are still the top choice for the city of Madison, Wisconsin.
The Situation:
The city of Madison, wisconsin, like every other city, needs to ensure it gets the most out of its investments, whether that investment is a new stadium or a two-way radio battery.
Ten years ago, the city of Madison was dealing with many of the same problems it faces today. Most notably, ensuring the safety of its employees and maximizing their productivity. Every day, the police, fire, rescue and public works departments relied on two-way radios to keep them connected so they could do their jobs. and those radios demanded durable and long-lasting batteries that lasted throughout their long shifts. But problems like overcharging and overheating reduced battery life. fortunately, the city's partnership with Motorola was about to change things.
The Solution
In 2001, Motorola introduced IMPRES two-way radio batteries and chargers, featuring a variety of crucial improvements that helped enhance the performance of the city of Madison's radios in the field and in the shop. Motorola's exclusive IMPRES technology helped create smarter batteries and chargers, taking the guesswork out of charging. the charger now provided a clear indication of battery capacity, and smart charging algorithms prevented battery overcharging and overheating—all helping to extend the talk time and overall cycle life of the battery. Rick Krueger, who worked for the city for over three decades and served as the city's radio shop foreman when Motorola introduced IMPRES technology, clearly depicts the most important benefit to the city. "there were a lot of publicized advantages," he says, "but the thing we were excited about was that you couldn't overcharge them. you could leave them in their chargers for a week and you didn't have to worry about it."
The Result
The city of Madison has purchased nearly 4,000 IMPRES batteries over the last 10 years based on the success it had with its initial IMPRES battery purchase in 2001. Keith Lippert, communications operations supervisor, said, "Like any new product, we weren't sure whether the IMPRES batteries and chargers would actually work like Motorola advertised, but they worked great. Everything they said they would do, they did." thanks to IMPRES technology, the city of Madison simplified battery management, optimized day-to-day battery capacity levels and extended the life of its batteries. this improved the safety and productivity of its workers by giving them the confidence to know they could rely on their radios and gave the city a higher return on its investment.
Contact us to learn how IMPRES Batteries can help your business.
How Can We Help?
Not sure what you are looking for? The two way radio experts at Radio Express, Inc. can help. Request more information today.
Call Us Toll Free:
800-545-7748